April 2023
The Rick Shea & Losin' End GR Thursday night residency at The Cinema Bar continues, April 13 - scroll down this page (last month's news post) for more details. 
Here's an in-depth musical interview with me in the great international Aldora Britain E-Zine, the brainchild and labor of love of music enthusiast and curator, Thomas Hilton. This passionate music man spends an inconceivable amount of time compiling and writing about very good artists from all around the world, please support him if you can Aldora Britain Records. To contribute: Aldora Britain paypal My interview starts on page 13 of the e-zine, and I've posted my pages below:
March 2023
Come on down to the Cinema Thursday night!
The great Rick Shea & The Losin' End (Dr. Stephen Patt, Jeff Turmes [who will also play a featured set] and Dale Daniel) play a couple of sets, some of the best Roots/Americana/Country music you'll ever hear! 
Then I nightcap with a couple of sets of solo acoustic 'troubadouring'!
Rick Shea & The Losin' End  8pm - 11pm   https://www.rickshea.com
Garrick Rawlings  11pm - 1am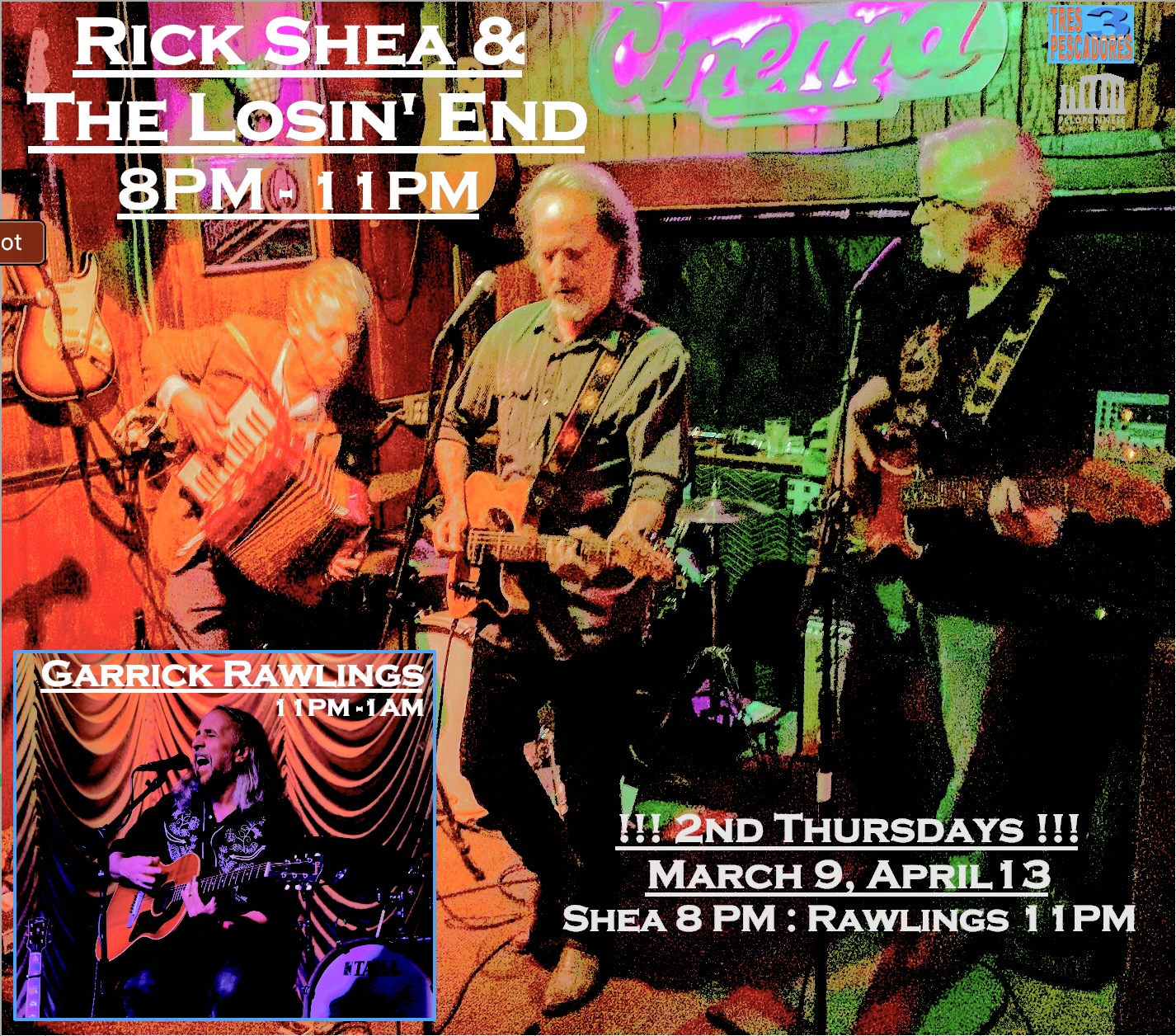 February 2023
There's this really talented kid been knocking around southland stages for ages, thought it was time he get a shot at the big time so I chiseled out some time to let him open my show at the Cinema a week from tonight (Thursday, Feb 9) - give him a chance folks, he and his excellent band 'The Losin' End' are going places! (Dr. Stephen Patt, Dale Daniel, Jeff Turmes) 
You can choose to believe that or… Rick is allowing me to 'open' the show by closing it! I think he lives approximately 400 to 500 miles east of the venue and I'm down the street - so come check out the excellent Rick & The Losin' End band and then you night owls hang in there for a late night solo lounge set - I can't wait! Perhaps somewhat newsworthy, I haven't performed in public since pre-covid and I'm so happily shaking the dust off and getting back out. A big thank you to Rick for getting my ass in gear!